How Much Does It Cost To Live In Thailand?
I
recently moved to Thailand in order to shake things up a bit and force positive change and a new burst of productivity into my life. The best thing you can do if your looking to refocus is to change your environment.
Deciding on Thailand was quite easy, I always wanted to come here and had not yet been to Asia. I had originally only planned to come here for a month or two but after two weeks, I decided to commit to a full year.
Related: Rise Up – Featuring Janjo – Motivational Music
Why?
Well for a number of reasons:
– I have lived in 15 different countries over the last 5 years and have been looking for a good place to set up shop. After arriving here, I quickly discovered that this is what I have been looking for and instantly fell in love with the vibe.
– It is very cheap here and allows me the opportunity to live very well for around 1/3 of the costs over in North America. This provides me with additional resources to pour into my businesses.
– The weather is great and even when it rains it is still extremely warm. Compare this to the winters over in Canada and the difference is night and day.
– Everyone smiles here. This fact alone was a tremendous determining factor. Being an entrepreneur can be very stressful and lonely. Being smiled at by every single person you pass by helps alleviate negative emotions and always seems to snap you back into a positive frame of mind.
– The food is amazing and did I mention cheap?
– I luckily made contact with some of the cities top entrepreneurs and attend weekly meetings and special events like conferences and meetups on a regular basis. This factor alone was also a major deciding factor.
– The girls are beautiful and very friendly compared to other countries I have visited. Definitely a bonus.
– There are tons of things to do, water sports, temples, islands, elephant rides, tigers, fishing, tours, Muay Thai, the list goes on and on.
– It feels safe here, even at 4 am in the morning. There are certain neighborhoods in countries like Belize and Colombia where I would not be able to make the same claim.
These are just the top reasons that I can think of off the top of my head.
Does it have its downsides? Well, of course, every country does. But we will save that for another post.
Related: Living In Fear: A Story Of Overcoming Self-Sabotage
So how much does it cost to live in Thailand? Let's do some math!
So my monthly accommodations are $14000 baht per month ($406.62 USD). This provides me with a brand new apartment (it's not very big, but that's okay) right in the heart of the city but far enough from the hustle and bustle that I can choose to either stay in my area and be productive or walk 2 blocks and get into the mix.
The building has a decent gym, 2 swimming pools, one of which is on the roof and provides an
amazing panoramic ocean view which is truly breathtaking!
There are also 2 co-working spaces, both with the same amazing view, which is fully equipped with wifi and air conditioning, and provide me with a great environment to write for a couple of hours on a daily basis.
This also includes 24/7 security and a gated entry, which is just an added bonus.
Monthly bills on top of that are still yet to be determined but might cost an extra 5000 baht ($145 USD) for wifi, water, and power (and that's with me using the air conditioning A LOT).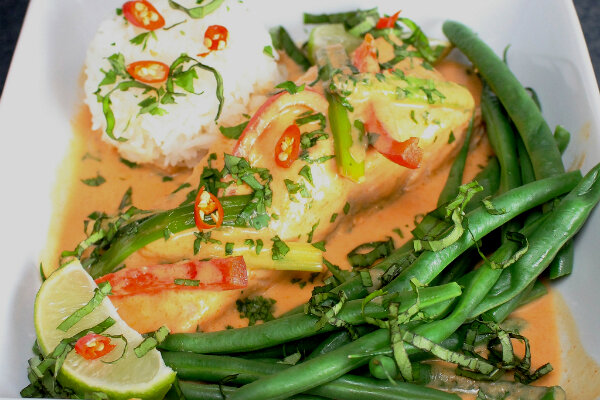 Food is cheap and a dish at a restaurant ranges typically between 140-200 baht ($4-$5 USD) per plate. You can eat even cheaper off the street carts and probably get that down to about 40-60 baht per meal ($1-$2 USD).
To put things into perspective there is a rotisserie chicken stand that I frequent right by my gym where I often buy an entire chicken for $135 baht ($3.92 USD).
The amount of money that I am saving on food alone is massive.
Transportation is also very cheap, there are hundreds of these little buses that do a pre-determined loop around the city 24/7 and you can just lift your arm and catch a ride for 10 baht ($0.29 USD)
You can also catch a motorbike taxi to most places for around 100 baht ($3 USD)  or take a conventional taxi for around 2-3 times that price.
Fitness is not exactly cheap but not exactly expensive either. I have a membership to the best gym in town about a block away from my apartment for 1000 baht per month ($30 USD).
Cell phone sim cards and credit is cheap and most places have wifi. I would estimate I spend about 500 baht ($14.50 USD) a month on my phone.
Drinks are around 100 ($3 USD) baht per beer and about 140 baht ($4 USD) for a cocktail, although, the prices can always be higher depending on where you decide to have a drink.
Related: 10 Killer Techniques for Boosting Your Charisma
A 1-year education visa will cost you around 40,000 baht ($1160 USD), it's a bit pricey but will allow you to stay in the kingdom for a full year without interruption or visa runs. There are other options available but this is the solution I went with.
So let's add up the total costs using rounded totals:
Accommodations = $400 USD a month for a "nice" place. Although you can get accommodations ranging anywhere from $150-$10000 USD a month depending on your budget.
Bills (internet, power, water) = Around $150 USD a month depending on your use.
Transportation = For around $30-$60 USD a month you can get around by taxi.
Food = Let's say $300-$500 USD a month which is enough to eat great, already made meals, and frequent restaurants quite often.
Cell phone = $15 USD per month, more, of course, depending on your use.
Alchohol and fun = Well I will just leave this one blank but we're talking $3-$4 USD per drink.
So for around $1000-$1200 USD a month you can live a pretty good life here.
I will admit that Thailand can get its hooks in you and for the first month I drank and partied way too much. I had a lot of stress and sexual frustration built up from my recent journey over in North America and from building 5 startups last year, as a result, I used this as an excuse to blow off some steam when I first arrived.
Now that I have that out of my system, I have a solid routine in place consisting of work, healthy eating and exercise, (and yes the occasional fun) and look forward to really crushing the remainder of 2017!
If you have any questions or comments feel free to drop me a line!
Stay Alpha!